Trametes versicolor or turkey-tail mushrooms are medicinal mushrooms that offer a multitude of health benefits.
This gorgeous fungus, handpicked by us in the wild, interior forests of Alaska, display several different colors in concentric circles. This likens it to a turkey's tail—hence, the name!
Amidst their many health benefits, turkey tail capsules are efficient immunity-boosters. This is why Arctic Chaga offers a huge selection of medicinal mushrooms and related products to help strengthen your immunity. Visit our online store to stay healthy the Chaga way!
Here's what turkey-tail mushrooms can do for your immunity:
Rich in Antioxidants
Loaded with antioxidants, turkey-tail mushrooms are great ingredients for bioactive products for the pharmaceutical and food industries.
Antioxidants are natural cleansers for the body. By reducing oxidative stress on the body, they help cleanse the body of free radicals, which can potentially result in diseases like diabetes, cancer and heart-diseases.
As a result, your skin looks and feels healthy.
Improves Gut Health
Research has shown that turkey-tail mushrooms improve gut health by promoting gut microbiota. These beneficial bacteria help digest food.
Studies have shown improvement in overall digestive health with the use of turkey-tail mushroom extracts. Its use led a decrease in harmful bacteria such as Clostridium and Staphylococcus.
At Arctic Chaga, you can get turkey tail supplement made from the finest quality mushrooms. Every capsule contains 500mg of Turkey tail powder, which is extracted from the fruiting body and has no mycelium filler.
Cancer-Fighting Properties
Considerable studies have shown turkey-tail mushrooms to have potential benefits in fighting cancer.
An 83-year old woman diagnosed with breast cancer took turkey-tail supplements alongside chemotherapy and researchers predict that it may have helped in the efficacy of the treatment.
Similarly, other studies have shown greater survival rates when turkey-tail mushroom supplements are combined with the use of traditional medicine in the treatment of cancers.
Its potential cancer-fighting properties have been observed against breast and colon cancer.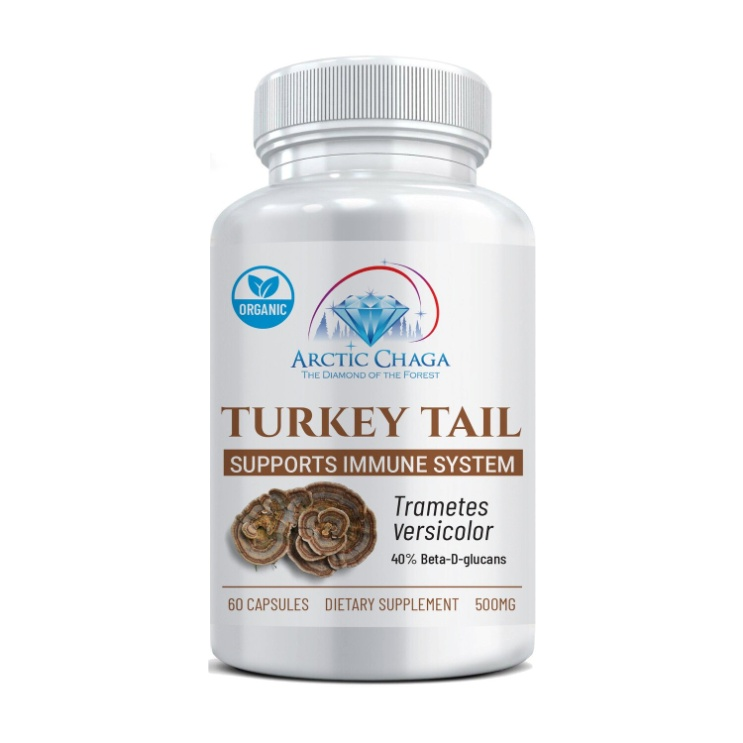 Get Turkey-tail Supplements
Get your hands on our Turkey-tail supplements (pictured above) now.
Ours is a family-owned business with a commitment to provide high-quality mushrooms and their products online in the United States and Canada. Our mushrooms grow in the wild and are hand-picked in the forests of Alaska, which is why they reach you in the most natural form.
All our products are lab-tested to ensure top-quality medicinal products that are a 100% organic
You will also find chaga supplements, chaga Moisturizing Body Butter, chaga chunks, chaga tea, ground chaga and chaga coffee among other items!