Around 44% of North Americans report trying to lose weight, out of which only 20% succeed in losing and maintaining their weight.
Weight loss isn't about conforming to ideal beauty standards but rather about feeling fit and healthy. Incorporating chaga into the everyday routine is a simple way of achieving weight goals alongside boosting one's health and immune system.
Chaga is a medicinal mushroom that grows on the bark of birch trees. Having several health benefits, it has made its way into people's daily routines in various forms, including Chaga Tea and Coffee.
At our Online Natural Health Food Store, we provide you with products made from wild-harvested and hand-picked mushrooms in Alaska. The highest grad mushrooms are then converted into lab-tested products for you to benefit from.
Due to its exceptional health benefits, chaga also happens to be ideal for weight loss.
Appetite Suppressant
Replacing your daily dose of caffeine with chaga works the way green tea helps suppress your appetite and acts as a natural energy booster.
Appetite suppressants have been seen to have a substantial impact on weight reduction when dealing with obesity. Habitual overeating while binging shows or prolonged periods of inactivity leads to those extra pounds of weight.
If you've been hit by quarantine 15 (weight gain during the pandemic), chaga tea can help with controlling hunger.
Its high fiber content keeps you feeling full and thereby reduces your daily calorie intake.
Loaded With Antioxidants
Chaga is loaded with antioxidants that help combat free radicals in the body, thereby reducing the risk of diabetes, heart disease and thyroid.
Recommended read: How Chaga Boosts Thyroid Health
If you're on a weight loss journey and are also working out regularly, oxidative stress can build up in the body, which can be eliminated by chaga. Chaga tea or coffee, therefore, can help you with your weight-loss journey.
Regulating Hormones
Cortisol is an essential hormone in the body. Overproduction of cortisol may lead to rapid weight gain, high blood pressure, mood swings, muscle weakness, and skin changes.
Our chaga tea and coffee can help regulate your body's hormones and assist you in attaining your fitness goals!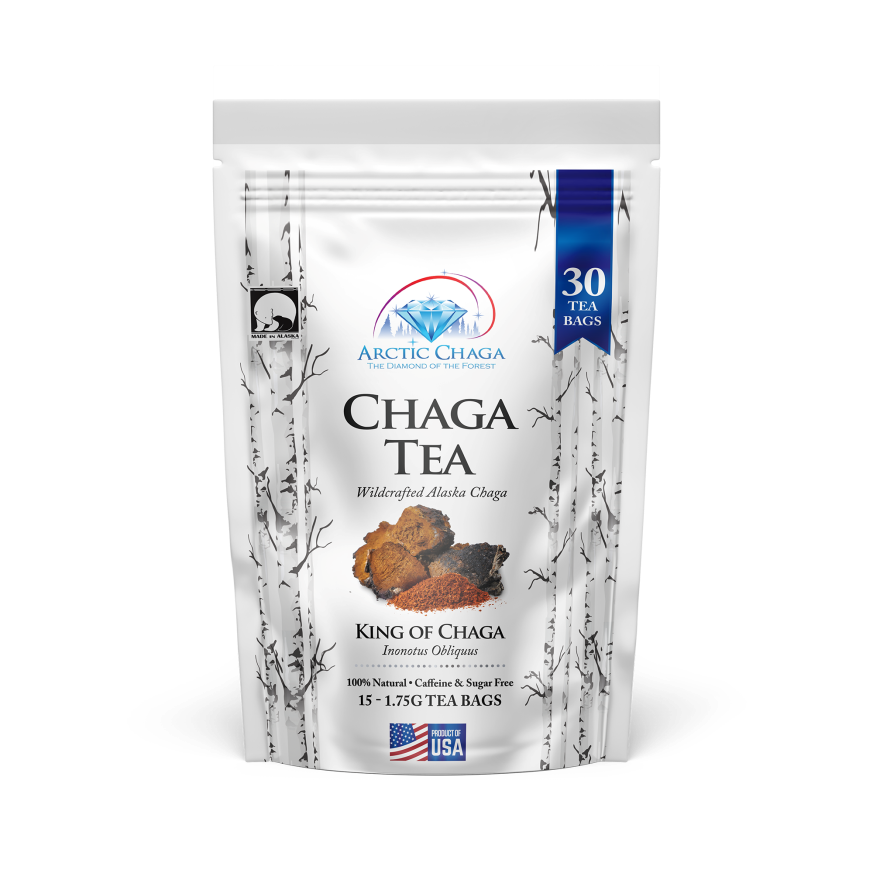 Arctic Chaga is a leading online natural health food store run by a family. Our medicinal mushrooms are all handpicked from the wild forests of Alaska and are hence, eco-friendly and completely organic.
You can place your order and buy Chaga organic teabags for deliveries in the United States and Canada.
Whether you're looking for organic coffee, organic tea, chaga supplements, chaga chunks, ground chaga or even chaga skincare, we've got it all.
Subscribe and save 10% on your first order!
Find out more about the best Online Natural Health Food Store here.